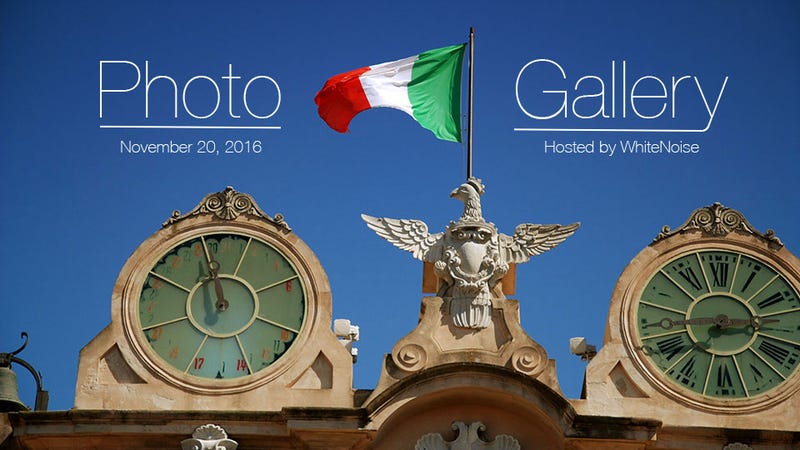 Welcome to the weekly Photo Gallery! Here, participants of any skill level are welcome to post photos they or their families took the week prior.

Feel free to post as many photos as you want that are safe for work. It is up to you to share stories with your viewers. Rest assured, you don't have to be as good as Joe McNally to participate. Photo Gallery is not in any way a photography contest.
If you have any questions about photography or need advice or tips, don't hesitate to ask! 😃
My family, my sons' BFF, and I spent our autumn break on the island that looks like it is getting kicked by a boot that comes down: Sicily. Sicily is smack in the middle of the Mediterranean Sea. It is surrounded by more than a dozen countries. The boys were exposed to many new cultures and experiences. The majority of our vacation was spent exploring ancient landmarks around the southern coast. The trip was packed with fun!

Due to Italy's long history of pickpocketing, we didn't want to bring our expensive cameras and lenses. Instead, I bought cheap old used Nikon D40 and AF-S Nikkor 18-55/3.5-5.6. It is a paperweight no one would bother snatching. We weren't happy with the results. The photos look like the eyesight of someone with a cataract. Ah well, better decent photos than none.
Header photo; Palazzo Senatorio, a town hall of Trapani built in 1672. Photo taken by Twin #2
Say hello to Palermo, the capital of Sicily and former Mafia capital of the world. The colors aren't off in this photo. Following the end of the Second World War, Palermo was largely in ruins. Since Sicily was built on top of limestone hills, the Mafia helped rebuild the city using the readily available building material. It is the impurities in limestone that turned structures yellow and brown over time.

Photo taken by BFF
One of 48 marble statues surrounding the Fontana Pretoria (Praetorian Fountain), an ancient monumental foundation in the center of the Piazza Pretoria (Praetorian Square). The foundation is the work of a 24-year-old Italian sculptor, Francesco Camilliani, in 1554. 16 of the 48 statues in the square are nude depictions of humans and mythological figures—satyrs, nymphs, and the like. During the 18th century, the city of Palermo nicknamed the square Piazza della Vergogna (Square of Shame).

Photo taken by Son #3
Duomo di Monreale (Monreale Cathedral), formerly Cattedrale di Santa Maria Nuova (Santa Maria Nuova Cathedral). It was a main place of worship in the ancient town of Santa Maria Nuova in Palermo. It was built for the will of Guglielmo II di Sicilia (William II of Sicily) from 1166 to 1189. Only one of two towers (pictured) was complete. Despite the half-assed effort, well preserved parts of the cathedral is covered with gorgeous mosaics.

Photo taken by Twin #1
The interior of the cathedral singlehandedly put the Fort Knox to shame. Virtually every available surface is covered with solid gold Byzantine mosaics. (Byzantine is an ornate artistic and architectural style of the Byzantine Empire.) The mosaics took place from the 12th to the mid-13th century. What's amazing is that the mosaics were done by Santa Maria Nuova locals. No experienced artists was involved; everyone was given an opportunity to participate. The gold represented "wealth and power" in the Catholic religion.

Photo taken by Twin #1
The mosaic beauty doesn't end in the interior of the cathedral. The exterior walls surrounding the cathedral are emblazoned in tile mosaics depicting fairy tales from the bible. The columns have different mosaic patterns to represent openness. Most of the exterior mosaics were restored recently.

Photo taken by Son #3
Here lies one of the oldest preserved temples in Sicily, Tempio della Segesta (Temple of Segesta). It is a Doric temple built in 430 BC in dedication to the ancient Greek city of Segesta. Segesta (now Calatafimi-Segesta) was founded the indigenous people of Sicily known as the Elymians. Despite its well preserved state, little is known about the temple. Archaeologists found evidence—abandoned tools and incomplete construction projects—suggesting the temple was never completed. Segesta was in a constant state of conflict with Selinunte, a neighboring city. It is believed Elymians deserted the city abruptly, leaving the temple largely incomplete. 2,400+ years later and here it is.

Photo taken by Son #3
Welcome to the ancient Greek equivalent of the Hollywood Bowl, the Teatro di Segesta (Theater of Segesta). The amphitheater was built in around 200 BC on the highest peak of Mount Barbaro. The opening of the semicircular amphitheater faces a beautiful scenery of the Gulf of Castellamare and nearby mountains. With a diameter of 60 meters (200 feet) and 21 rows, the amphitheater was big enough to seat the entire population of Segesta—roughly 4,000 people. Amazingly, the 2,200+ year old Teatro di Segesta is still in operation today.

Photo taken by Twin #1
Thought your pothole ridden roads were bad? Try driving on the ancient roads of Erice. Go on, I will be waiting here.
I think I heard your car's shocks groan in agony. Okay, just kidding. They roads are closed for cars for preservation reasons. When the Elymians founded Eryx (now Erice) in around 450 BC, the roads were eventually paved with a beautiful pattern of stones. A mixture of calcite (calcium carbonate) powder and freshwater was used as a cement-like glue to hold the stones in place. Some structures along the roads are recent.

Photo taken by Twin #2
The Castello de Venere (Venus Castle) is a medieval castle dating back to the Anglo-Norman period (12th century). It was built on top of an isolated cliff of Mount Erice, replacing the Tempio della Venus (Temple of Venus). The mountaintop castle became a place for people to worship Venus (Aphrodite), goddess of love who is married to her half brother Vulcan (Hephaestus) while having affairs with her other half brother Mars (Ares) and an ungodly amount of mortal men that resulted in many god-children and demigods. Okay, I'm grossed out now. Let's move on.

Photo taken by Twin #1
Motya was an ancient Greek city on a tiny island off the coast of Trapani. The strait between Motya and Trapani was and still is salt rich. During the Roman Empire, ordinary table salt was more valuable than gold. This is what made Motya one of the richest and most powerful cities of the time. Wealthy people bought their salt from nowhere other than Motya. The coastline consisted of salt pans (shallow depressions in the ground in which saltwater evaporates to leave salt deposits). During the Middle Ages, windmills were erected to mechanically pump saltwater through salt factories. After a major upgrade to electrical pumps, the windmills were put out of use. Now please stop putting too much salt on your cream cheese bagels. Emperor Augustus is rolling in his grave!

Photo taken by BFF
The facade of the Chiesa delle Anime Sante del Purgatorio (Church of the Holy Souls in Purgatory) was the work of an Italian architect, Giovanni Biagio Amico. The church was built from 1688 to 1712. It is more of a place of doom and gloom than a place of worship. The church consists of many old paintings and statues depicting suffering and death. To make the matters worse, it is also the burial site of Amico.

Photo taken by BFF
We went to the Valle dei Templi (Valley of Temples), an ancient site just outside of Agrigento. We don't know why it is called that because the site is on a ridge. The site was a home to several Doric temples dedicated to Greek-turned-Roman deities. They were built from 480 BC to 420 BC. Without any scientific evidence to back him up, Roman Emperor Constantine I adopted Christianity. As a result, a vast majority of the temples were modified or destroyed.
Here is what's left of them.
Another old preserved example is the Tempio della Concordia (Temple of Concordia). Although archaeologists didn't know who the temple was dedicated to. It is believed it was built in dedication to an ancient Greek city of Akragas. The Romans successfully modified the temple into a church. We wish we had the time to come back at night when the temple is lit.

Photo taken by Twin #2
Tempio della Heracles (Temple of Heracles). Heracles is the Greek equivalent of Hercules. Hercules. You know Hercules, that muscular demigod son of Zeus who spends an awful lot of time with who is possibly his lover Iolaus. Anyway... Heracles is well known for being a hero. The Romans destroyed the temple in favor of another hero named Jesus. Interestingly, unlike many temples on the site, it had a room in the center. Archaeologists believe the room once housed a statue of Heracles.

Photo taken by Twin #2
Here lies the ruins of the Tempio di Giunone (Temple of Juno). Juno is the Roman equivalent of the least liked goddess of marriage, Hera. You know Hera, that cranky woman who is married to a cheater in need of a vasectomy, Zeus. Damn, that man has 92 children. Anyway... The Romans tried and failed to modify the temple into a church. They defaced the temple in an attempt to move the entrance to the back. So that worshippers would face east instead of west. (Muslims also face east in their prayers.) As a result, the temple crumbled and partially collapsed.

Photo taken by Son #3
Ragusa is home to some of the finest restaurants in Sicily. My fiancé and I taught the boys about the real, non-Americanized Italian cuisine. As well as restaurant manners in different countries where it is socially acceptable to do the following:

Food is best served hot. It is considered an insult to chefs to reheat your food. Start eating the instant your meal is served and don't wait for your party to get theirs.

Restaurants encourage patrons to belch and break wind so they can keep eating without any discomfort. It is the patrons who complain about the noise or smell that make a big scene. In some restaurants, belching is an expression of appreciation.

Napkins are used to wipe your mouth. If you don't like the food, simply spit it out. That is why restaurants serve your meal with a small plate. No, it's not for your Olive Garden breadsticks. Oy vey.
"I didn't know people liked butt acoustics," Son #3 joked.
Photo taken by Twin #2
Ragusa is a city built on limestone hills. Structures were built in tight clusters. This means many roads are narrow and one-way. It was a lot of fun driving up and down these roads. Too bad our badly neglected rental Fiat Scudo minivan did just fine. Ah well, there goes our opportunity to tell someone at the rental place, "Fix it again, Tony!"

Photo taken by BFF
Although the Duomo di San Giorgio (St. George Cathedral), built during the 18th century, is out of place. It is home to some of the most beautiful, intricate stained glass windows we have ever seen. That was the only reason we were there. We got bored with extravagant religious relics and left.

Photo taken by Twin #1
This perfectly restored 1950s Fiat 500 in Noto was the only exciting car we saw on the entire island. It is about the size of an original Mini Cooper. Powered by a tiny two-cylinder engine in the back, Fiat 500 was the most popular economy car of the postwar Europe. Bloated and ugly modern Fiat 500 is a whopping 60% bigger. Unlike many self-destruct Italian sports cars, it didn't burst into flames.

Photo taken by Son #3
We were driving through Syracuse when we spotted a conical structure that looked very out of place. We checked it out and it turned out to be another place of doom and gloom. The Santuario della Madonna delle Lacrime (Shrine of Our Lady of Tears) was built in 1966. It houses a statue of Virgin Mary, a poor woman Jesus impregnated with himself. The statue in question, sculpted by Camilliani, is believed to "shed real human tears by supernatural means." The architecture is far more interesting. The conical dome has a visual illusion that makes it appear as a tall circular tower from the inside.

Photo taken by Twin #2
Italy is known for producing some of the best wine in the world. We went to a winery. There, the winemaker was very kind to give us a tour to show the process of traditional wine production. The boys took turns stomping on grapes barefooted in vats. While they were at it, my fiancé and I did some wine tasting. It was a lot of fun!

Photo taken by Twin #1
Farmer market near the winery. The merchant made a fortune that day. My fiancé bought several bags of goods to take home for cooking. We don't have farmer markets like this anymore in SoCal. People just buy goods from 99¢ Store and sell them at farmer markets.

Photo taken by Son #3
We drove all the way back to the northeast one night to catch our flight later that day. We made a quick stop and...
Say hello to Mount Etna! It is the largest active stratovolcano in Europe and tallest mountain in Italy. Due to its constant state of activity, no one is allowed nearby. We were bummed, but my fiancé and I taught the boys about volcanoes.

Here is a Greek legend about Mount Etna:

The father of monsters, Typhon, rose from the depths of Tartarus. He was waddling through the Mediterranean Sea towards Mount Olympus when Zeus intercepted. He picked up a large mass of land with his bare hands and threw it on Typhon, imprisoning him. The land became Sicily and the enormous bump over Typhon's body became Mount Etna.
Photo taken by Twin #1
Let's conclude this post with a What The Duck comic strip! 😃