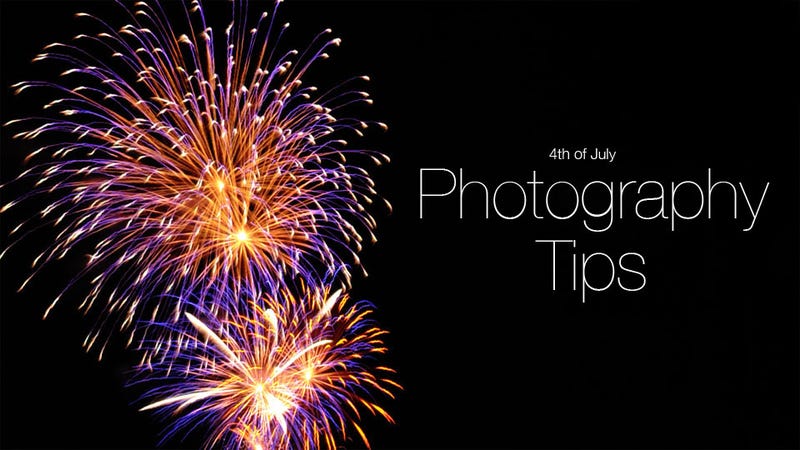 Happy 4th of July! If you plan on taking photos of the local fireworks display tonight, I'm happy to offer the following tips:

A digital single lens reflex (DSLR) camera is preferred for fireworks displays. DSLR cameras allow more control. Smartphones with built-in cameras and most point and shoot digital cameras can take photos of fireworks, but with a limited range of shutter speeds. If your point and shoot digital camera has a manual exposure mode (the M in M-A-S-P) or fireworks scene mode, then use it.

Depending on your location from the fireworks display, use a lens of an ideal focal length. A telephoto lens (105mm and up range) is ideal if you are taking photos from afar. A wide angle lens (14mm to 35mm range) is ideal if you are taking photos at the venue where fireworks are ignited.

Turn off the autofocus on the lens or camera and manually focus the lens at infinity (∞ symbol). Most cameras cannot focus on the dark sky and fireworks displays are usually beyond lenses' focusing distance range. Use a flashlight to help line up the infinity symbol with the distance marker.

Use a tripod with a load capacity greater than the weight of your camera. It will hold the camera still at any angle. A monopod (single legged tripod) may be used, but you will have to lean it against something solid to hold it still.
If you do not have a tripod or tripods are not allowed at the venue, you can use a small square of anti-slip mat, like this. You can find a roll at any dollar store. Place the mat over something solid, such as a curbside collection box or your car roof, and place your camera on it.

Use a wired or wireless cable release. It will reduce camera shake that can result in blurry images. If you do not have a cable release and/or you are using a square of anti-slip mat, do your best holding the camera as steadily as possible. Self-timer countdown is too long to be used.

Set the exposure mode to Manual. Unlike Green Camera Auto, it allows you to have full control of your camera's shutter speed and aperture. Semiautomatic exposure modes, such as Aperture Priority and Shutter Speed Priority, won't do.

Set the shutter speed to Bulb (B). It allows you to keep the shutter open for as long as you like. The shutter can be opened for one or multiple fireworks bursts. Exercise caution, though. Keeping the shutter open for too long may result in overexposure.

Set the aperture to F/11. It allows a small amount of light to enter the lens, allowing you to use slow shutter speeds. F/8 is ideal if you want to include some foreground. F/16 is ideal if you want to use slower shutter speeds for multiple fireworks bursts. It is not recommended to go past F/16. Otherwise the photos will be slightly blurry ("soft") due to lens diffraction. Diffraction is light waves that have been spread out unevenly after passing through a small opening.

Set the ISO sensitivity to the lowest base setting, such as 50, 100, or 200. It allows you to use slow shutter speeds and result in clean, noise-free photos. If applicable, avoid using "trick mode" ISO range below the lowest base ISO setting. Otherwise, some detail in the highlights may be lost. If ISO 200 is your camera's lowest setting and you would like to use slower shutter speeds, a one-stop neutral density filter can be used. It will block one stop worth of light.

Set the white balance to direct sunlight (sun symbol). If you want to include some artificial lighting, such as streetlights, depending on lighting, set for incandescent (lightbulb symbol).

Set the camera recording format to RAW. Unlike JPEG, corrections can be made to the photos with little to no impact on image quality. A photo processor, such as Adobe Photoshop Lightroom, Nikon Capture NX-D, and ACDSee Pro, is required to process photos taken in RAW. If you do not want to bother, set to JPEG Fine.

If you are using JPEG format, go easy on in-camera sharpening. Streaks of sparks aren't sharp and there will be a lot of smoke. Excessive sharpening may result in edge halos (black pixels) around bright highlights. They are noticeable only when you brighten the photos, though. Most DSLR camera sensors are like that.

If applicable, enable a feature that opens the shutter momentarily after the shutter mirror is raised. It will reduce camera shake that may result in blurry images. If your camera has mirror lockup ("Mirror up" on some cameras), then use it instead.
Do not go alone if you have an expensive camera and/or lens. Bring a friend or family with you. Stay safe and warm!

If you do not have a photo editor, such as Adobe Photoshop, to enhance your photos, you can download NIK Collection for free. Viveza is a basic photo editor and Color Efex Pro is a color filter gallery.
Or you can just leave your camera at home and enjoy the fireworks display. If fireworks are illegal in your state and your city canceled the local fireworks display due to fire concerns... Oh well, join the club and whisper "'Murica".
Share your photos over on the Photo Gallery or the next one on Sunday! 😃